Our mission is to provide affordable, quality, early educational child care in a safe, healthy, stable, nurturing and diverse environment where children are encouraged to develop to the best of their ability, thereby providing a foundation for lifelong growth.
We trust that each Educator uses the unique environment within their home to support children in the exploration and discovery
of their culture and that of other children around the world.
appreciation
We appreciate childhood as a unique and valuable stage of the human life cycle
knowledge
We base our work on knowledge of how children develop and learn
family
We appreciate and support the bond between the child and family
diversity
We respect diversity in children, families, and colleagues
uniqueness
We respect the dignity, worth, and uniqueness of each individual (child, family member, and colleague)
understanding
We recognize that children are best understood and supported in the context of family, culture, community, and society
support
We appreciate and support the bond between the child and family
relationships
We recognize that children and adults achieve their full potential in the context of relationships that are based on trust and respect
New Dimensions Family Day Home Program Philosophy
New Dimensions believes quality childcare in a family day home setting will provide a fun, safe and comfortable home atmosphere for children to learn and grow developmentally. We believe that children are capable and competent and curious learners, with a need to explore and investigate the culture and community they live in. Indoor and outdoor daily activities are thoughtfully planned, based on children's interests, and increasing abilities. 
We believe parents are the first and most important teacher for their children, and we support them in this role in a variety of ways. Our open-door policy, Educator/parent daily one-to-one communication, agency or provider written communication, community referral all help to support a reciprocal relationship built on trust and honesty.
We believe that all children deserve to be treated with dignity and respect.   
We believe that all children deserve to have the adults in their lives be considerate of their needs at all times. 
We believe that all children are vibrant and active participants in our society, and all have a right to access quality child care. 
We strive to accommodate all children including those with diverse or special needs. 
We believe it is important for staff and Educators to stay current with Early Learning and Child Care research, and emerging best practices in health and safety as recommended by licensing and health authorities. New Dimensions supports Providers and staff members in the pursuit of ongoing training. This support may include offering: 
Approved time away for training
Financial support
Affordable professional development opportunities
Mentorship opportunities
Alternative learning opportunities such as electronic modules
Other processes or means that are identified that would support the individual's professional development.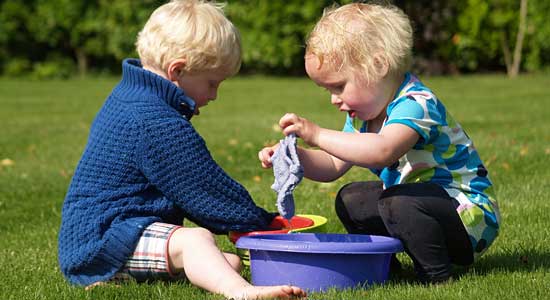 We believe that the privacy of all individuals who have contact with New Dimensions including employees, Educators, clients and community members must be respected at all times. 
We believe that each family has unique needs, and our service will respond in a proactive and positive way to ensure the needs of all parties are respected.
New Dimensions Family Day Home Program Inc. has been providing affordable, quality child care to families since 1984. After many years in the Red Deer community, we feel confident that we can meet your child care needs.
We are licensed with the Province of Alberta to approve and monitor individual family day homes.  New Dimensions recruits individuals who are dedicated, caring, mature, and able to provide a safe, stable, nurturing environment for infants, toddlers, pre-school and school-age children.  Our Family Day Home Educators are approved after a thorough screening process and receive ongoing monitoring and support in the form of unannounced monthly home visits, mentoring, workshops, annual conference and other training opportunities.
New Dimensions carefully adheres to the maximum number of children allowed by Government requirements, assuring that each child receives quality individual care and attention.  In a small group setting, our Educators are able to offer quality, nurturing, home care featuring one-to-one interaction, awareness of individual growth & development and programming that accommodates individual needs.
Contact us today at 403-346-0888 to find out how we can help you. It's our pleasure!
New Dimensions Family Day Home Program Inc. is a member of the Central Alberta Family Day Home Association and the Alberta Family Child Care Association.